Iran's currency crash a blow to Ahmadinejad
(Read article summary)
The Iranian currency – the rial – has been essential in shoring up a view of Iran as strong and independent in recent years. Now it's collapsing on President Ahmadinejad's watch.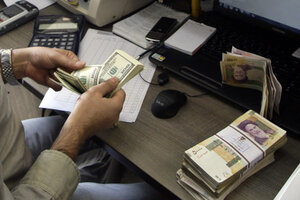 Vahid Salemi/AP
As Iran experiences new, harsh US and international economic sanctions over its nuclear program – a program considered by much of the country as a matter of national pride – a stable currency has become a national security priority.
"Even though it's not necessarily good for the economy, amidst sanctions a stable currency creates an illusion of strength," says a veteran analyst in Tehran. "It reflects how nonvulnerable the Iranian economy is to sanctions."
But in the past week Iran's currency – the rial – dropped almost 30 percent after President Obama approved new sanctions targeting Iran's Central Bank. The rial has since rebounded significantly from a low of 17,800 rials to the dollar on Monday. However the Central Bank has tried to introduce a cap on the market rate of 14,000 rials to the dollar, and the government announced that anyone caught selling rials at a higher rate would be arrested.
A sign of national strength
In a country such as Iran, with a rich history of empire and a powerful literary tradition, national pride has remained strong even in the wake of growing discontent with the country's Islamic regime and mounting global isolation. A stable currency in recent years, in the face of economic sanctions, has shored up that pride.
Since Iran's 1979 revolution, which led to the overthrow of the Pahlavi monarchy and the eventual establishment of an Islamic Republic, Tehran has used massive state subsidies as a means of fulfilling its revolutionary promise to redistribute wealth and achieve "economic justice" for all Iranians.
---