Russia hints foreign sabotage may be behind space program troubles
(Read article summary)
The head of Russia's space agency said it is 'suspicious' that most of the program's accidents occur in places that Russian radars can't reach.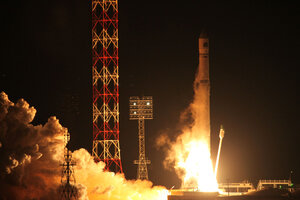 AP/File
A humiliating string of accidents that has beset Russia's space program over the past year, and only seems to be getting worse, may be the result of foreign sabotage, the head of the Russian Space Agency (Roskosmos), Vladimir Popovkin, hinted on Tuesday.
At least seven serious disasters have struck Russian space ventures in little more than a year, wrecking Roskosmos's reputation and putting some of its key projects in doubt. Mr. Popovkin, who had earlier pointed to industrial failures as the source of Roskosmos' woes, said Tuesday that he found it "suspicious" that many accidents occur in blind spots where they are not covered by Russian radars.
"It is unclear why our setbacks often occur when the vessels are traveling through what for Russia is the 'dark' side of the Earth – in areas where we do not see the craft and do not receive its telemetry readings," Popovkin said in an interview with the pro-government daily newspaper Izvestia.
"I do not want to blame anyone, but today there are some very powerful countermeasures that can be used against spacecraft whose use we cannot exclude," he added.
The chain of disasters began in December 2010, when a Proton-M rocket plunged into the Pacific Ocean along with three satellites that had been meant to complete the GLONASS global navigation network, Russia's answer to the US GPS system.
---