7.3 quake hits Indonesia again, but this time residents are better prepared
(Read article summary)
7.3 quake struck Indonesia early Wednesday morning, six years and one month after a devastating earthquake rocked Banda Aceh and South East Asia, causing tsunami warnings, but residents had escape routes planned.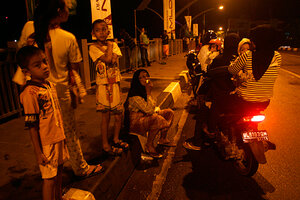 Heri Juanda/AP
Just hours after a 7.3-magnitude earthquake struck off the coast of western Indonesia early Wednesday morning, stirring panic and a tsunami alert but leaving no visible damage, life had returned to normal.
It was a forceful reminder for residents of Banda Aceh, the city closest to the devastating 2004 earthquake and Indian Ocean tsunami that killed more than 230,00 across South East Asia.
But despite lingering fears of the Dec. 26, 2004 monster wave that killed roughly 170,000 people in Aceh alone and altered the social fabric of the region, Rahmadi, who owns a small perfume shop in Banda Aceh says people are more prepared than they were a little over six years ago because of government programs.
"My parents put all our important things to a bag, and they know which road to use to escape," says Rahmadi.
The US Geological Survey reported that the quake struck after midnight 261 miles southwest of the provincial capital of Aceh. On the nearby island of Simeulue, where the quake registered a 7.6 magnitude, according to Indonesia's meteorology and geophysics agency, a hospital evacuated patients as a precaution.
Rahmadi says the earthquake was longer than smaller ones that routinely hit the area.
---