Taiwan voters face tight election, but keep typical rowdiness in check (+video)
(Read article summary)
As Taiwan prepares to go to the polls on Saturday, almost three decades of democracy may have rubbed the shine off some of its novelty – and instability.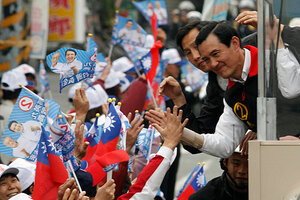 Shengfa Lin/Reuters
Today, as Taiwan prepared to go to the polls for tomorrow's ultra-tight presidential election, police kept a watchful eye on a handful of antigovernment protesters staked out in front of the ruling party's cavernous 2012 campaign headquarters in anticipation of a news conference by the president.
It past elections, it was common for angry street demonstrations to swell above 100,000 people ahead of votes in Taiwan, which was under authoritarian until the late 1980s.
But the 2012 campaign is calmer than those in the past, despite the tight race. After four presidential races and local elections somewhere on the island almost every year, the Taiwanese have gotten used to the democratic process.
"It's certainly more sedate than in previous years," says Michael Turton, an American-born politics blogger based in central Taiwan. "We're in our third decade of real elections. They are normal, not novelties."
Before the presidential race in 2004, a bullet grazed incumbent Chen Shui-bian, who went on to win. In 2010, a gunman shot and wounded the son of former-vice president Lien Chan at a city council campaign event near Taipei. Another man was killed.
But now the banners, the protest, and the news conference have become common features of Taiwan's vibrant democracy. They can be seen all year, any year. And this week they were a mere blip on Taipei's broader landscape of traffic snarls, lunch-hour lines at dumpling shacks, and folks running errands before the Lunar New Year holiday begins on Jan. 23.
---