Aid groups: With new Africa drought looming, donors must speed response
(Read article summary)
Aid groups warned that a drought was coming to the Horn of Africa in 2011, and say now that a late response by donor nations unnecessarily cost thousands of lives.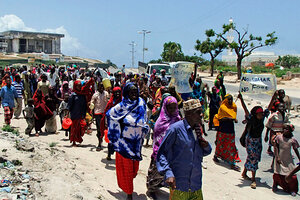 Farah Abdi Warsameh/AP/File
Scientists and aid organizations gave the world plenty of time to prepare, but a late response by the world's donor nations cost 50,000 to 100,000 lives during last year's drought in the Horn of Africa region.
That is the message of a joint report by Oxfam International, Save the Children and other charities, released today, during the global meetings at Davos, Switzerland, and at the African Union in Addis Ababa, Ethiopia. Now, with a new drought looming in the West African nations of Mauritania, Niger, Mali, and Chad, the joint report, "The Dangerous Delay," is calling for an overhaul of the world's aid delivery system to avoid more preventable deaths from starvation.
---