China's New Year: there be dragons, but not enough train tickets
(Read article summary)
This weekend, hundreds of millions of Chinese will return to hometowns to celebrate the Chinese New Year of the Dragon. But the annual pilgrimage is marked by the annual struggle at the train station.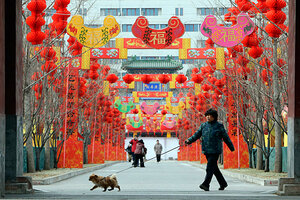 Jason Lee/Reuters
Is this any way to run a railroad? Some 235 million Chinese travelers have their doubts.
Every year at the Chinese New Year the Ministry of Railways has the same problem: carrying the hundreds of millions of people who want to go home to celebrate the new year, China's biggest holiday with their families. And every year it is a nightmare.
Passengers have long complained about endless lines at ticket offices or about paying high prices to scalpers who corner the market; and that's before they even get on the train to brave agonizingly long and cramped journeys. Being with family at new year is like Thanksgiving and Christmas wrapped into one for Chinese.
So this year, as China prepares to usher in the Year of the Dragon on Sunday, the Ministry offered holidaymakers the chance to buy their tickets online.
That would have been a good idea, except that its server collapsed under the strain.
On Jan. 9, the ticket booking website took 1.4 billion hits, the Ministry said.
The ensuing crash left a lot of disgruntled customers.
"I tried on the Internet for a whole day but I never managed to log on," says Fan Zhixin, who works in a website's finance department, as she lined up for a ticket outside Beijing's central station on Thursday.
---