Costa Concordia wreck: What we know a week later
(Read article summary)
Many details have emerged about what happened before and after the Costa Concordia ran aground on Jan. 13, but it's still unclear what the captain was doing much of that time.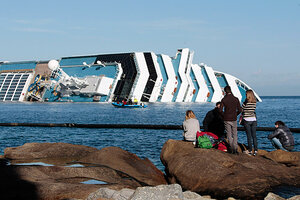 Gregorio Borgia/AP
A week after the Costa Concordia sank in shallow water two hours into a holiday cruise, transfixing the world, attention is now focused on the behavior of the captain before and after the ship hit a rock formation at 9:40 p.m.
What began as a serious tragedy off the Tuscan island of Giglio may now have some serious tabloid elements to the story.
New questions involve the role of a 25-year old blonde Moldovan, a Filipino cook, the captain's alcohol intake, a dinner ordered after the collision, and the captain's moves after the ship ran aground, leaving a 160-foot gash in the hull.
Captain Francesco Schettino seems to have been attentive to Domnica Cemortan, alternately described as a hostess and a dancer, for much of the evening before, during, and after the ship hit the rock, possibly dining with her as late as 10:30 p.m. The two were also together as late as midnight, according to Ms. Cemortan, at a lifeboat station, where he ordered her to leave the semi-submerged ship.
What was clarified this week: After charting an alternate course to sail closer to Giglio Island – a course that Costa Cruises denies it authorized – Schettino told investigators he "turned too late" to avoid rocks that some maritime experts say are uncharted but do show up on other nautical charts. In one animated mapping using nautical GPS positioning of the Concordia, the back half of the ship is shown grazing what is described as an exposed rock.
Transcripts of radio conversations between the Coast Guard and Schettino confirm that he left the ship while hundreds of passengers were still onboard.
---