France brings Armenian genocide bill one step closer to law
(Read article summary)
The French Senate today approved a controversial bill making it a crime to deny the Armenian genocide in what many see as a political ploy ahead of elections this spring.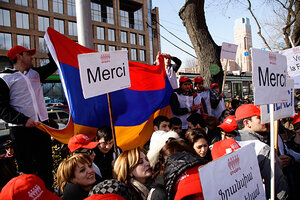 Tigran Mehrabyan/PanARMENIAN/AP
France poked Turkey in the eye last night by approving a new "genocide denial" bill, then this morning urged Turkey to "remain calm."
But Turkish reaction was not especially calm.
After the French Senate voted in the late hours Monday to criminalize a denial of the 1915 Armenian genocide – punishable with a year in jail and a $58,000 fine – Turkey's ambassador to France said he will leave.
Prime Minister Recep Tayyip Erdogan today called the new law "discriminatory" and "racist" and a "massacre of free expression," and pointed out that French President Nicolas Sarkozy's ancestors had once sought refuge in Turkey.
Something's definitely out of whack in this diplomatic fallout. But it isn't entirely Turkey's inability to face its Ottoman past, which includes the killing or deporting of some 750,000 to 1.5 million Armenians during World War I.
Even French Foreign Minister Alain Juppe, a member of the ruling party, thinks the new French law is a bad idea and "ill-timed."
"I'm sure we'll find again a constructive relationship," Mr. Juppe told French TV. "I put out my hand and I hope it will be shaken one day."
---