Hillary Clinton to step down from 'high wire' of US diplomacy
(Read article summary)
It's too early to talk of her legacy, or to grade the Obama administration's foreign policy, but four years of repairing relationships and defending US interests have taken a physical toll.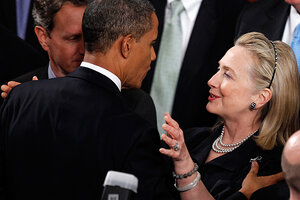 Evan Vucci/AP
No matter what happens in the 2012 US presidential elections, Hillary Clinton will not be America's chief diplomat for much longer.
At a State Department press conference yesterday, she announced that she would be stepping down from the "high wire of American politics" after 20 years, as first lady, as a senator from New York, and finally as US Secretary of State. At the press conference, she told reporters that "it would be a good idea to find out how tired I really am."
Diplomacy is a largely thankless task in America. In France, diplomats are practically rock stars, and the actions and speeches of senior French diplomats abroad are noted closely as to whether they match the standards of French diplomats of the past. Not so in the US. Newspapers like the New York Times may have front-page articles about the US secretary of State's latest foreign trip to Myanmar, for instance, but the vast majority of Americans are blissfully unaware of what their government is doing overseas.
Ms. Clinton inherited a job when American diplomacy was every bit as messy as the city of New Orleans after Hurricane Katrina. Many nations that initially felt sympathy for the US after the Sept. 11 attacks had grown quickly tired of American statements such as, "You're either with us or against us." Changing the tone of American foreign policy meant bringing back a level of trust, and to do that meant thousands of foreign trips.
---