Europe's weather brings continent to a halt
(Read article summary)
The frigid temperatures and snowfall that began in Eastern Europe last week have reached Western Europe, snarling airport traffic in Britain and turning Rome white.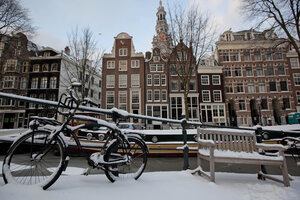 Peter Dejong/AP
It finally got really cold in Europe. Rome and the Netherlands recorded the lowest temperatures in 27 years and kids were making snowmen outside the Vatican. But the sudden arctic freezing last week in Ukraine, Hungary, and the Balkan states that steadily crept up the continent also took a toll, with 131 reported dead in Ukraine alone.
Winter usually arrives earlier in Europe than the United States, accompanied by piles of snow and ice, wind, and low temperatures. But "winter" as a story this season had been delayed here for lack of an appearance. Recent bits of snow – one inch in Berlin, two in Copenhagen, and three in London – seem remarkable since during November, December, and January, the continent was an advertisement for mildness. After Christmas carols at London's St. James Cathedral a few days before the holiday, patrons left to eat dinner outside. Berlin was bucolic. The ski industry was slightly panicked by the lack of snow.
---