Quran burning: What is the respectful way to dispose of Islam's holy book?
(Read article summary)
Thousands protested today the burning of Qurans and other religious texts at a US military base in Afghanistan.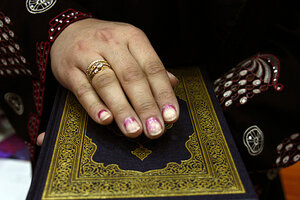 S. Sabawoon/Reuters
Thousands of protesters rallied outside the Bagram military base in Afghanistan today after NATO and US officials reportedly burned Qurans, the Muslim holy text. The Qurans, along with other books, were removed from a library at a nearby detention center reportedly due to extremist messages penned inside the books and exchanged among detainees, reports the Associated Press. US and NATO representatives apologized and promised an investigation into the event.
The burning of the Quran has angered Afghans in the past, sparking deadly protests in 2010 and 2011. But if discarding a Quran is necessary, there are respectful and acceptable ways to do so, scholars say.
It is important to give a Quran a proper burial, says Omid Safi, professor of Islamic studies at the University of North Carolina and author of 'ÄúMemories of Muhammad.'ÄĚ Any text containing ¬†the name of God is sacred in Islam. God is revealed through scripture, and anything associated with writing it has a religious significance, Mr. Safi says.
One could literally bury the Quran, ideally in a place with little foot traffic. Another option is to put the book in a flowing body of water, either letting it sink or be carried away. Regardless of the method, treating the book's destruction with respect is paramount. Safi likens it to a poor man's funeral, where the book might be wrapped in a shroud before being placed in the ground and mourned.
Burning the Quran, however, is also an accepted practice.
'ÄúPeople often ask, 'Äėif it'Äôs OK for Muslims to burn the Quran, then why isn'Äôt it OK for the US military to do it?'Äô'ÄĚ Safi says. 'ÄúThat'Äôs where the question of symbolism is important.'ÄĚ
Some say erasing the names of God and his messengers prior to burning the Quran makes it acceptable, but Safi says it's even simpler than that. It comes down to context: Burning the text in a dumpster with trash on a US military base feels less respectful than treating the disposal with reverence in a burial or sacred burning. 
Safi finds one analogy particularly helpful: The Quran is to Islam as Jesus is to Christianity. 'ÄúIn an Islamic universe ... the word becomes not a person, but a book,'ÄĚ he says. 'ÄúFor a Muslim to see the Quran burnt not as a way of burial, it would look and feel like someone burning Jesus, or a crucifix.'ÄĚ
But contextualizing today'Äôs protests goes beyond simple reverence for the Quran, Safi says. 'ÄúBagram airbase is one of the central places of US military presence in Afghanistan ... [and] between 600 and 700 Afghans have been detained or are being detained there for years and years.'ÄĚ ¬†
Safi says this isn'Äôt so much a theological debate on how to dispose of the Quran properly, but a charged conversation around a military force 'Äúthat'Äôs being looked at as an occupying force ... [A]n unlawful, violent force.'ÄĚ
---