Quran burning: What is the respectful way to dispose of Islam's holy book?
(Read article summary)
Thousands protested today the burning of Qurans and other religious texts at a US military base in Afghanistan.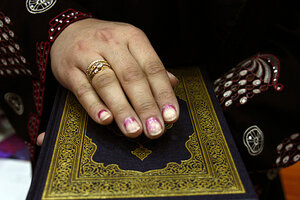 S. Sabawoon/Reuters
Thousands of protesters rallied outside the Bagram military base in Afghanistan today after NATO and US officials reportedly burned Qurans, the Muslim holy text. The Qurans, along with other books, were removed from a library at a nearby detention center reportedly due to extremist messages penned inside the books and exchanged among detainees, reports the Associated Press. US and NATO representatives apologized and promised an investigation into the event.
The burning of the Quran has angered Afghans in the past, sparking deadly protests in 2010 and 2011. But if discarding a Quran is necessary, there are respectful and acceptable ways to do so, scholars say.
It is important to give a Quran a proper burial, says Omid Safi, professor of Islamic studies at the University of North Carolina and author of "Memories of Muhammad." Any text containing the name of God is sacred in Islam. God is revealed through scripture, and anything associated with writing it has a religious significance, Mr. Safi says.
---