Why an Italian lawmaker's phone call trumps Obama's speech
(Read article summary)
Italian Prime Minister Mario Monti's decision to take a call from an Italian lawmaker during President Barack Obama's speech highlights the tentativeness of his claim to authority.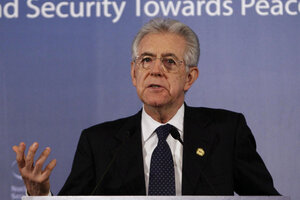 Jason Lee/REUTERS
When Barack Obama praised Italian Prime Minister Mario Monti's work fighting his country's debt crisis, Italy's leader wasn't there to listen. He was talking on his cell phone.
According to leaks from Mr. Monti's staff, he had to take an "urgent call" from Fabrizio Cicchitto, a senior lawmaker from former leader Silvio Berlusconi's Freedom Party, just as the United States president began his speech during yesterday's nuclear energy summit in Seoul. The prime minister's staff refused to disclose the topic of such an urgent conversation.
While the world was well-acquainted with Mr. Berlusconi's gaffes (such has his description of Obama as a "young man with a nice tan"), the new prime minister's faux-pas was quite unexpected. Of the 52 world leaders at the summit, he was the only one who skipped Obama's speech. He was also the only leader openly mentioned in the same speech – a move widely interpreted as a demonstration of Mr. Obama's esteem.
---