Thai censors say out, damned spot, out to Macbeth film adaptation
(Read article summary)
The maker of 'Shakespeare Must Die' is appealing the decision, but Thai bureaucrats are nervous about the movie's political overtones.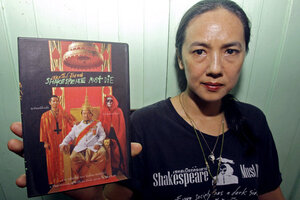 Sakchai Lalit/AP
The banning of a Thai cinema adaptation of William Shakespeare's 'Macbeth' is causing a stir in Thailand. The censors ruled that the movie "has content that causes divisiveness among the people of the nation."
In a country where the royal family is protected from criticism by possibly the world's strictest lese-majeste laws (designed to prevent public criticism or ridicule of royals), any drama featuring regicide might be deemed taboo. But Shakespeare Must Die seems also to have touched a raw nerve with its depiction of Shakespeare's ambitious but guilt-ridden usurper blended in with scenes of protest and violence redolent of Thailand's recent past.
The country has been beset by on again, off again street protests since 2005. To some, the Macbeth character in the movie is reminiscent of former Thai Prime Minister Thaksin Shinawatra, whose apparent vaulting ambition prompted royalist suspicions that he had a real-life anti-monarchy agenda.
Thailand's Culture Ministry told director Samanrat Kanjanavanit that she could only proceed with a bowdlerized version of the government-funded movie, but the filmmakers held their ground.
A red-clad Grim Reaper in the movie was deemed too evocative of the red-shirt demonstrators who took to Bangkok's streets in 2010, in protests that turned violent with more than 90 killed. Another scene inspired by a gruesome massacre of student demonstrators in 1976 was also deemed unacceptable.
Director Samanrat, better known as Ing K., says the censorship makes little sense. "Why do they (the censors) find a 400-year-dead poet so threatening?," she told the Monitor. The original Macbeth was penned during a fractious period in English history, probably shortly after the 1605 "Gunpowder Plot," when Catholics aggrieved at religious discrimination sought to assassinate England's King James I, a Scot.
---