Soccer player defects from Cuba, requests asylum in US
(Read article summary)
Soccer player defects: A Cuban national soccer player disappeared while his team was playing in an Olympic soccer tournament in Tennessee.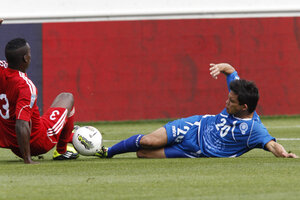 Harrison McClary/REUTERS
Yosmel De Armas is a Cuban soccer player who has defected in order to seek asylum in the United States. While in Nashville, Tennessee last month for an Olympic qualifying soccer tournament, the Cuban midfielder was absent from his national team's final game against Canada, although he played on Saturday's 4-0 loss to El Salvador.
When asked why the player skipped the game, the Cuban national coach said De Armas was sick and remained at the team's hotel. However, when the team left Nashville, the promising soccer player did not accompany his teammates on their return trip to the island nation.
Although US officials refused to comment about the player's whereabouts, it was reported that De Armas was last seen in Miami.
"We're preparing an asylum application to file with the Department of Homeland Security," attorney Alex Solomiany said, according to Reuters.
The Miami-based lawyer, who described his client as "nervous," said De Armas is "alone here" and that he was on his way to Miami at the time of the game, contrary to the coach's allegations.
A rising number of Cuban athlete defections are explained by several factors: the continuous financial hardship the populace faces in Cuba, the plethora of defection precedents that make the process look easy, and the luring prospects of a better life, all coalesce to urge young athletes to follow this path.
---