Why Zimbabwe's President Mugabe was named UN 'tourism envoy'
(Read article summary)
Zimbabwe's President Mugabe, who signed an agreement to co-host a UN tourism conference, now has an honorary position as envoy, despite a long record of human rights abuses.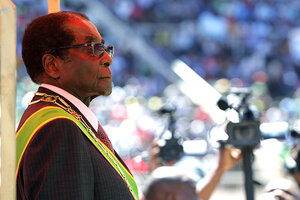 AP/File
Zimbabwe's President Robert Mugabe has just been named the UN's international envoy for tourism. It's a special recognition for Mr. Mugabe's agreement to co-host, with Zambia, a United Nations World Tourism Organization general assembly next August.
At a ceremony in Victoria Falls, Mugabe said the agreement between Zimbabwe, Zambia, and the United Nations is of "historical importance."

"For our people, the signing of the agreement attests to our commitment, our readiness to welcome the entire tourism fraternity to our countries," Mugabe was quoted by the independent Zimbabwe newspaper NewsDay as saying. "For the UN World Tourism Organisation, on the other hand, the signatures testify to the confidence and trust that was bestowed upon us."
That Mugabe, a man who faces a European Union travel ban and economic sanctions because of his repression and torture of opposition activists, would be named a UN envoy for tourism has drawn a certain amount of criticism.
Mr. Mugabe's ruling party is accused of arresting, detaining, and in some cases killing members of the opposition Movement for Democratic Change during the 2008 national elections. He later formed a coalition government with the MDC, after an 11-month stalemate in which the national currency became worthless and inflation soared to more than 1 million percent.
---