For Queen Elizabeth, a Google doodle of diamonds and doggies
(Read article summary)
In a crowning achievement, Queen Elizabeth gets a Diamond Jubilee Google doodle that honors key symbols of her reign – and offers just a glimpse of the vast amount of jubilee kitsch on tap.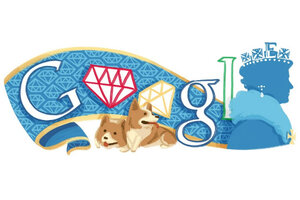 Google
Queen Elizabeth graces the front page of Google today in the UK in a doodle marking her diamond jubilee, offering the rest of the world but a glimpse of the playful pop art and consumer kitsch on display here in Britain.
Scots guardsmen cupcake toppers, union jacks on toothpicks, ice queen scoops. Bunting: enough to string together the old empire. Royal photos on thimbles, spoons, tea cups, shot glasses, egg cups, tea towels – the usual tat, as the Brits say. Jubilee thongs? Yes.
Then there's the cleverness contest surrounding the WWII-era slogan, "Keep Calm and Carry On." Written on a women's compact: "Keep Calm and Powder On."
Comparatively, Google's doodle is an understated affair. The letter O's are diamonds, symbolic of the 60th (diamond) anniversary on the throne. The E sits as a jewel in the queen's crown. The queen appears in two-dimensional contour; her beloved corgis, however, look ready to leap off the page.
The playful riffs on royal themes reflect the generally favorable mood toward the royals of late.
A YouGov poll last month found 67 percent agreeing the monarchy is good for Britain, and 86 percent approve of Queen Elizabeth. This is up from the days when her children's divorces dominated the headlines and her slowness to show emotion over the death of Princess Diana frustrated many.
---