China to US embassy: Stop telling people how bad the air is in Beijing.
(Read article summary)
Air quality in Beijing is notorious for being 'crazy bad.' The US Embassy in Beijing started tweeting air quality reports, but now China says it's unfair to judge it by international standards.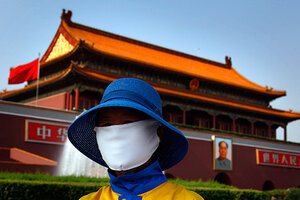 David Gray/Reuters
The Chinese government today warned the US Embassy in Beijing to stop telling the world just how bad the capital's air really is.
For the past three years or so, the embassy has Tweeted the hourly readings from a pollution monitor on its roof, providing the only real time indicator of what we are breathing here.
Deputy Environment Minister Wu Xiaoqing, however, told reporters today that this was a violation of the Vienna Convention on Diplomatic Relations. Only the Chinese government is allowed to measure and publish air quality information, he said.
The trouble with that is that I am not the only person in Beijing who has sometimes found it hard to reconcile the soupy grey fog that I often see outside my window with the Beijing Municipal Environmental Monitoring Center's insistence that pollution is "light."
The US embassy spokesman was unavailable to comment on Mr. Wu's admonition, but @BeijingAir, its Twitter feed, was still posting at 6 p.m.; it found the air to be "Unhealthy for Sensitive Groups."
---