Oil prices rise, drop, and rise again. Buckle up, Earth.
(Read article summary)
Predicting global oil prices is not easy. Prices have more to do with global politics -- and supply and demand -- than with politicians, but voters take out their anger on the leaders they can reach.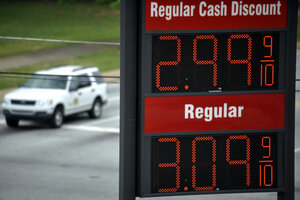 Rainier Ehrhardt/AP
For sheer roller-coaster thrills, picture yourself as an oil market analyst.
Imagine the challenge of (correctly) predicting the future price of oil and all those wonderful fuel products Americans love to use, in the midst of a crucial election year.
When oil-producing countries like Iran, Iraq, Libya, and Nigeria, become unstable, oil prices can soar. When economies shrink in energy-consuming places like Europe and the United States, oil prices can sink. When both trends happen at the same time, oil market analysts dig into their pockets for a coin to flip.
In February, when oil prices surged over $110 a barrel, some oil analysts were predicting an End Times scenario, where the US economy would go into a fetal position, rocking back and forth and singing Adele songs. Fox News Channel, the drama queen of the global news pageant, was betting that gasoline pump prices were likely to hit $8 a gallon, a factoid that, at least for now, appears to be utterly false.
---