Is China really the world's top economy? Much of the world thinks so
(Read article summary)
But much of the world would be wrong, according to recent study. China still lags far behind the US in GDP and personal wealth.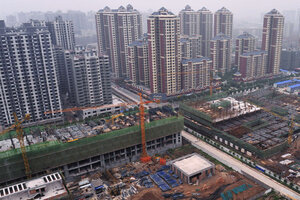 Rooney Chen/REUTERS/File
For the first time, more people around the globe think that China, not America, is the world's biggest economic power.
They are wrong, of course, at least for the time being. America's economy is much larger than China's however you measure it, and when it comes to personal wealth, there is no contest.
But a recent 21-country survey by the Pew Research Center offers a snapshot of global perceptions of power, and the results are sobering for the United States.
World's top 5 economies. Where is China?
Americans themselves are almost evenly split over who they perceive to be the premier global economic heavyweight: 40 percent say the US, 41 percent say China. (Interestingly, the Chinese have no such illusions about themselves – they put America ahead by a margin of 48 to 29.)
Europeans seem most overawed by the China hype, with 62 percent of Germans putting China at the top of the heap, compared with just 13 percent who still see America as the world's top economic power. In Britain the split is 58-28, in Spain it's 57-26.
Worldwide, 42 percent of respondents put China ahead of America; 36 percent perceived it the other way around.
---