Where the US and Pakistan are working together
(Read article summary)
The $75 million USAID Teacher Education Project alone won't patch the US and Pakistan governmental relationship. But education projects are one way to maintain people-to-people relations.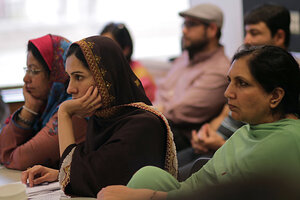 Courtesy of Education Development Center
Every few months, US-Pakistan relations seem to fall to a new low.
The latest tumble happened this week when the United States announced it had called off negotiations with Pakistan to reopen NATO supply routes.
But even as Washington and Islamabad figure out how to mend their struggling relationship, soft diplomacy efforts – and billions of dollars – are in place to keep US-Pakistan ties from fraying completely.
In fact, a group of 22 high-ranking Pakistani education officials and policymakers are in the US meeting with education experts. It's part of a first-of-its-kind, USAID-funded project to professionalize Pakistan's teachers and upgrade the quality of education in the nation's elementary and secondary schools.
The USAID Teacher Education Project alone may not patch the relationship between the US and Pakistan, but funding education projects is one way the US is able to support the kinds of moderate values that both the Pakistani government and the US say they want to promote.
"We need a strong civil society here in Pakistan that is safe and secure. We cannot produce that without good education," says Mahmood ul Hasan Butt, director of the USAID Teacher Education Project, which is being implemented by EDC, a nonprofit based outside Boston.
---