UK's thoroughly modern royals? Not exactly. Commoner Kate has to curtsy.
(Read article summary)
The British monarchy has raised eyebrows by updating a rulebook to include guidelines on how the Duchess of Cambridge Kate Middleton, who has no royal blood, must acknowledge the "blood princesses."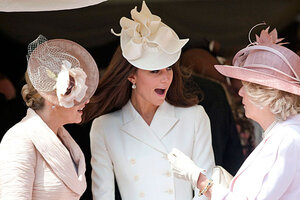 Paul Edwards/Reuters
News that the Duchess of Cambridge Kate Middleton, the probable future queen of England, has been instructed to curtsy to her husband's younger cousins has caused some surprise here, where she has quickly come to be regarded as one of the most senior members of the royal family.
Queen Elizabeth II has approved an update of the Order of Precedence in the Royal Household, a sort of manual of court rules, that has been amended to take into account the addition of Kate, who married Prince William last year.
The Order now states that Kate, who has no royal blood in her veins, must curtsy to the "blood princesses": the Princess Royal, Anne; Princess Alexandra, the granddaughter of George V; and the daughters of the Duke of York, Princesses Beatrice and Eugenie; when she is not accompanied by her husband.
When Kate is with William, she need not curtsy to the blood princesses, but even in his presence she must curtsy to the Queen and Prince Philip; her father-in-law Charles, the Prince of Wales; and his wife, the Duchess of Cornwall.
It has come as a surprise to some that the royal family should spell out such an arcane piece of protocol at a time when it is seeking to project a more modern image. Kate, with her relaxed, easy manner, is considered to have been great asset in this endeavor.
---