After Aung San Suu Kyi, girl band symbolizes a changing Myanmar?
(Read article summary)
Since Myanmar ended military rule, getting an interview with Aung San Suu Kyi has been a of rite-of-passage for foreign journalists. But with reforms come new items on journalist's checklist.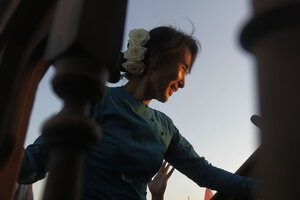 Altaf Qadri/AP/File
Since Myanmar (Burma) formally ended military rule in March 2011, getting an interview with long-detained opposition icon Aung San Suu Kyi has been a sort of rite-of-passage for foreign journalists visiting here.
The Nobel Laureate's recent winning of a seat in Myanmar's Army-dominated parliament and current high-profile European tour are being taken as further signs that the government is maintaining its reform drive.
But there are other signals that the country is changing for the better. And with those changes come new items on the visiting journalist's to-do checklist.
Over the past year, the Me N Ma Girls (hoping there's no need to explain the obvious pun on the country's name), a pop/dance act made up of five young Myanmar singers and dancers, have appeared frequently in the international media.
"We appreciate all the media who interview us," says Ah Moon, a 21-year-old singer and dancer from war-torn Kachin state in the country's north. She recently finished a Russian language degree and speaks fluent English with an Americanized twang.
Successive stories have branded the ladies as emblems of cultural change and taboo-lifting in what was one of the world's most oppressive political regimes. The girls, perhaps wise beyond their years, seem wary of being typecast as some sort of cultural fable or cliché, rather than aspiring pop superstars in their own right.
"Yeah, we've been in a lot of articles, it's been great," says Kimi, 24, an ethnic Chin from the northwest of Myanmar. "But, sometimes it's like 'can we practice now?'" the girls say, feigning good-humored weariness, while gathered around a laptop in Ah Moon's family apartment in Yangon.
---