Mexicans at polls talk of jobs, drug violence
(Read article summary)
Mexico's presidential election today is a choice between four candidates – and not voting at all.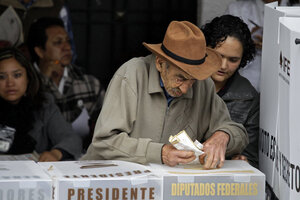 Dario Lopez-Mills/AP
Jose Eduardo Salas is a young Mexican with a degree in mechanical engineering, no job, and few prospects, he says, so he is placing his vote in Mexico's presidential election today for Enrique Peña Nieto of the Institutional Revolutionary Party (PRI), who he says he believes holds Mexico's best hope for progress.
He, like millions of other Mexicans, are at the polls today to elect a leader for the next six years, one who will have to address a sputtering economy and a crime wave that has seen over 50,000 killed in drug-related violence in the past six years.
Polls leading up to the race have put Mr. Peña Nieto at the front of a pack of four, even though the PRI held a tight, authoritarian grip on Mexico for 71 years, until it was voted out of power in 2000.
But many Mexicans remained undecided leading up to the race, and many have also opted not to vote, currents present in Salas's own family.
His grandfather, Roberto Cienfuegos, accompanied his grandson and son to the station, with their 2-year-old Boxer Kikon, but stayed outside. He has no plans to vote.
"It doesn't make a difference," says Mr. Cienfuegos, who voted for the leftist candidate in the 2006 race who is also running this year, Andres Manuel Lopez Obrador. Mr. Lopez Obrador lost by less than a percentage point, declared fraud, and never accepted the results as many of his followers, including Cienfuegos.
His son, Juan Manuel Cienfuegos, did opt to vote – though kept his pick private, as many Mexicans do – but expressed deep skepticism that it will even make a difference. "Crime and jobs are the most important problems," says the small business owner. "But no one is going to be able to solve either."
Reports from around the country showed that voting was underway without any incidents of major violence. The polls are open until 6 p.m. local time and partial results are expected two hours later.
---