From planning battles to organizing trash collection: Libyans settle into peace
(Read article summary)
A reporter who covered the battle of Tripoli returns for Libya's first election in decades to find a city that has achieved a tenuous peace.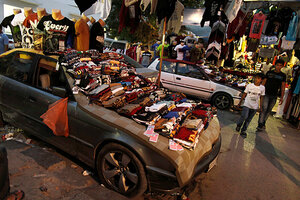 Zohra Bensemra/Reuters
This morning, walking past the military office near my hotel, I found several young soldiers admiring a shiny new red and white car marked "Libyan Army."
"See that? We have 3,000, maybe 4,000 like it," says one of them, a tall young man in camouflage named Sari. "What we need is not guns and chaos – it's order."
I don't know whether Sari's estimate of 3,000 to 4,000 Libyan Army cars is accurate. I do know that he voiced the hopes of millions – hopes that seem to be coming true as order slowly returns to Libya.
When I came to Tripoli in August 2011, militiamen were fighting Muammar Qaddafi's forces for control of the capital. It was a time of heat, power outages, checkpoints, green flags pulled down and trampled, and gunfire – some of it far-off, some of it close. Everybody, it seemed, had a gun then. My neighbors in the old city, where I rented a house, had guns. They were mainly the sons of fishermen and laborers. Overnight they became revolutionaries, too.
Since Mr. Qaddafi fell, some militias have resisted calls from the interim government to disband. Some have also brandished their weapons for political power grabs, while local arguments have spiraled into gunplay. When Libyans voted on July 7 for the first time in more than four decades, they feared that violence would disrupt the election.
Happily, it didn't, and in Tripoli, at least, Libyans are now quick to assure visitors that things are getting better.
The other day I dropped by "my" neighborhood in the old city. There were the same dusty alleys, the same barefoot children. But there were no guns in sight.
"John!" came a voice. It was Ayman, the young man who had rented me his house. He is married now and wears a heavy silver ring.
---