What the anti-NATO protest signals for Pakistan
(Read article summary)
Thousands turned out to protest the reopening of NATO supply lines through Pakistan, but most of the protest leaders do not command power at the ballot box.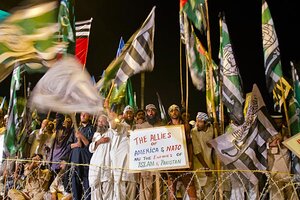 Anjum Naveed/AP
Thousands of protesters have taken to the streets for the past few days in a "long march" from Lahore to Pakistan's capital, Islamabad, in response to the government's recent decision to reopen NATO access to critical supply routes for the war efforts in Afghanistan. More protests are planned in cities across Pakistan in the coming days, including a rally heading up the Khyber Pass.
The NATO supply line was closed by Pakistani authorities in November, after 24 Pakistani soldiers were killed in a cross-border attack by US soldiers further damaging already strained relations between the two allies. Since then, Pakistan's role in the US-led war in Afghanistan has hinged on the thorny issue of the supply lines and an apology. After a diplomatic stand off and a series of negotiations, the government resumed transit routes last week after US Secretary of State Hillary Clinton finally issued an official apology for the deaths.
The recent protests organized by Difa-e-Pakistan Council or Defense of Pakistan Council (DPC), an umbrella coalition of right-wing parties, suggest however, that the issue is far from resolved for Pakistan's religious right. Although the protests may not significantly affect logistics of the resumed supply routes, they set the stage for the coming elections.
Analysts say that anti-establishment activism will further delegitimize the already weakened government, and the major opposition parties not currently participating in the rallies will try their best to exploit that.
---