US eases sanctions on Myanmar in rare difference with Aung San Suu Kyi
(Read article summary)
Last month, Aung San Suu Kyi advised foreign companies not to invest in the state-run Myanma Oil and Gas Enterprise until it became more accountable and open.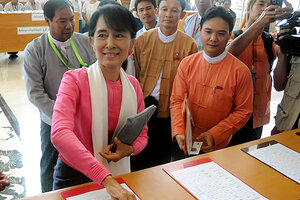 Khin Maung Win/AP
In what appeared to be a rare snub by American lawmakers for Myanmar parliamentarian and long-time detainee Aung San Suu Kyi, the United States on Wednesday gave a go-ahead for American businesses to invest in Myanmar's oil and gas sectors – the largest easing of sanctions in the past 15 years.
"The United States is easing restrictions to allow US companies to responsibly do business in Burma," said President Obama, using the old name for Myanmar as Ms. Aung San Suu Kyi does.
Aung San Suu Kyi does support sanctions-lifting by Western countries and investment by Western business in keeping with the reforms undertaken by Myanmar's nominally-civilian government in office since March 2011. But she has expressed caution regarding the Myanmar state-run energy company, long regarded as a cesspit of corruption with tight links to the country's abusive military. Last month the National League for Democracy (NLD) parliamentarian warned that "the Myanma Oil and Gas Enterprise (MOGE) … with which all foreign participation in the energy sector takes place through joint venture arrangements, lacks both transparency and accountability at present."
The US and some other Western governments have long taken their cue on Myanmar policy from Aung San Suu Kyi, but the Obama administration's decision on investment runs against that well-worn grain.
The US has likely taken what it sees as a pragmatic pro-business policy decision based on what it views as a combination meeting of strategic interests (countering China) and rewards as promised for the Myanmar government undertaking reforms.
---