Got an appointment with Vladimir Putin? Better bring a book.
(Read article summary)
It doesn't matter if you're a business leader, a prime minister, royalty, or even the pope: Russian President Vladimir Putin keeps everyone waiting, sometimes for hours.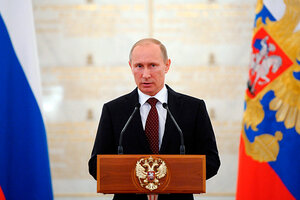 Alexei Druzhinin/Presidential Press Service/RIA Novosti/AP
At the Crimean resort of Yalta last Thursday the president of Ukraine, Viktor Yanukovych, waited in sweltering heat for his honored guest, Russian President Vladimir Putin, to show up for a scheduled summit to thrash out the two nations' differences over the price of natural gas.
And he waited, along with all his officials, for four hours after the meeting was supposed to begin. Eventually, Mr. Putin showed up, and someone explained to the Ukrainians that he'd stopped to "drink a glass" with a group of Russian bikers known as the "Night Wolves" on his way to the summit.
That incident might be put down to a quirk of Russian-Ukrainian relations, which are quite strained these days over the price of gas and other issues.
But since coming to power 12 years ago, Putin has developed a consistent reputation for keeping everybody waiting, sometimes for hours, including Russians of every social station, foreign leaders, global corporate executives, the queen of England, and even, once, the pope.
The now-three term Russian leader's habitual lateness has seldom been made an issue of and goes widely unreported. Supporters say it's really his only personal vice, while critics argue that the Russian media – which often covered Putin's episodes of tardiness during his long-ago first term of office – has since clammed up about it out of fear of offending the Kremlin.
We only happen to know about the incident in Crimea last week because a few outraged Ukrainian officials have chosen to make an issue of it.
---