Beijing and US tense up over fresh South China Sea dispute
(Read article summary)
A new Chinese city and base on a disputed South China Sea island have kicked up tensions, but it will likely end there. The last thing China wants to do is give the US a reason to get involved.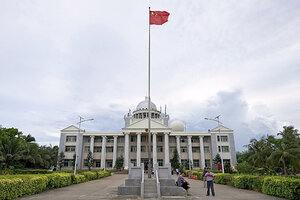 AP/File
The United States and China splashed unusually harsh words on each other this week, but it may prove just a ripple in a larger dispute.
In short, Beijing summoned a senior US diplomat Aug. 4, after Washington criticized a new city and military garrison that China set up in a widely contested ocean area stretching 3.5 million kilometers (1.4 million miles), from Taiwan to Singapore.
A US Department of State spokesman said Aug. 3 that China's new Sansha City and companion military base in the tiny Paracel Islands "run counter to collaborative diplomatic efforts to resolve differences and risk further escalating tensions in the region."
China lashed back with a stern statement on its foreign-ministry website: "The US state department's so-called statement on the South China Sea issue disregards reality, confuses right and wrong, and sends a seriously wrong signal."
---