Is international justice finally finding its footing?
(Read article summary)
A prison sentence for a Congolese warlord. A court ruling for a Chadian dictator to be tried for torture. Some 67 years after Nuremberg trials, international courts and tribunals are making their mark.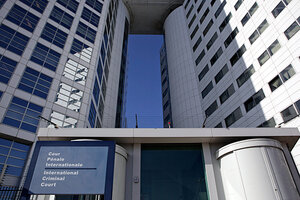 Peter Dejong/AP/File
It would appear that July was a good month for the cause of international justice.
A glowering Thomas Lubanga Dyilo entered the pages of history in early July when he became the first person to be sentenced to prison by the International Criminal Court in The Hague. The Congolese warlord's earlier conviction by the ICC was the first time in legal history that recruiting children into armed conflict was found to be a war crime. Score one for universal justice transcending borders and for expanding definitions of war crimes.
Meanwhile, the International Court of Justice — an institution separate from the ICC — on July 20 ordered that a 1984 treaty obligated Senegal to either prosecute former Chad dictator Hissène Habré for torture, murder, and other charges or extradite him to another country. Score one for the respect of state sovereignty, of treaty law and of universal human rights. And just Tuesday, the ICC for the first time ordered that the victims of Mr. Lubanga's crimes were entitled to reparations: monetary payments for their suffering.
---