Teddy bear air drop still roils in Belarus
(Read article summary)
Belorussians have been put on trial for complicity in last month's teddy bear air drop by two Swedes protesting Belarus's poor human rights and democracy record.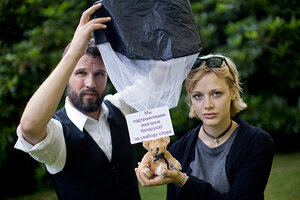 Gero Breloer/AP
The "teddy bear war" is heating up.
No, it's not happening on the Forest Moon of Endor, but in a place that often seems almost as strange and remote: the post-Soviet republic of Belarus.
Belarussian leader Alexander Lukashenko has ordered his law enforcement officials to get to the bottom of the intrusion into his country's airspace last month by a small private aircraft that dropped 879 teddy bears, each on its own individual parachute and bearing a pro-democracy messages such as "we support the Belarussian struggle for free speech."
The stunt was apparently carried out by two Swedes, Tomas Mazetti and Hannah Frey, who said they learned to fly and piloted the plane from Lithuania into Belarussian airspace as their own personal effort to dramatize the struggle for human rights in Belarus.
In an interview with Foreign Policy, Mr. Mazetti and Ms. Frey explained why teddy bears:
---