China's response to 2012 Olympics: American physique tough to beat
(Read article summary)
The US team bagged 104 medals compared to China's 88, disrupting hopes for what looked at first like it would have been a first-ever blowout for China.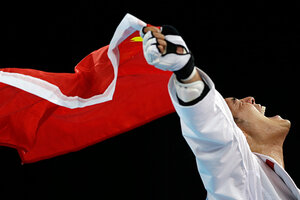 Ng Han Guan/AP
China's People's Daily newspaper topped off its coverage of the London Olympics on Monday pronouncing that the Communist Party's leadership had sent congratulations to the country's Olympic team.
Then the Communist Party mouthpiece suggested that the Chinese shouldn't compete with United States because Westerners have bigger chests and heads.
This type of coverage a day after the London Olympics closing ceremonies fails to mention what the world saw throughout much of the Games: China was leading the US team early in the Games in what would have been a first-ever blowout for the country fixed on besting the world's best in every department.
But it lost that lead in later matches. That detail, however, appeared to be lost on the country's official media. Instead, hints of angst show in stories such as the one comparing athlete physiques.
The question among propagandists in Beijing was probably something like, how can we use the Chinese team's Olympic performance to whip up patriotism without misstating facts about the medal count?
China looks to its performance in the Olympics, as well as its space launches and its Antarctic expeditions, to tell its public via the tightly controlled media that their nation is doing well internationally. Otherwise the public might lose confidence in China over the wealth gap, inflation, and other slow spots in its march to become a first-world country.
---