Atheism on the rise around the globe
(Read article summary)
According to a new poll, religiosity worldwide is declining while more people say they are atheists. In the United States, a growing number consider themselves non-believers.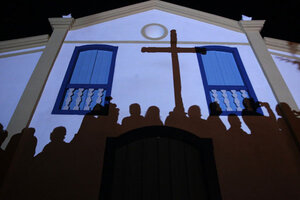 Ueslei Marcelino/Reuters
Atheism is on the rise in the United States and elsewhere while religiosity is declining, according to a new worldwide poll. "The Global Index of Religiosity and Atheism," conducted by WIN-Gallup International headquartered in Switzerland, found that the number of Americans who say they are "religious" dropped from 73 percent in 2005 – when the poll was last conducted – to 60 percent. Those who said they were "convinced" atheists rose from 1 to 5 percent. And 33 percent of the people polled said that they don't consider themselves as a "religious person."
Nonbelievers
Ryan Cragun, a University of Tampa sociologist of religion, told the "Religion News Services" he questions whether the number of atheists in the United States really grew as the poll suggested. Dr. Cragun suggests that people may just be more comfortable identifying themselves as atheist.
That view seems consistent with a study conducted by the Pew Research Center's Forum on Religion & Public Life in 2009 showing that 5 percent of Americans at that time said they did not believe in God or a universal spirit, but only 24 percent of the nonbelievers actually called themselves atheists.
The new poll is based on interviews (face-to-face, by telephone or online varying from country to country) with more than 50,000 people from 57 countries. The participants were asked this question: "Irrespective of whether you attend a place of worship or not, would you say you are a religious person, not a religious person, or a convinced atheist?"
---