What do Yemenis want from the West? Whitening strips, for one thing.
(Read article summary)
Correspondent Adam Baron becomes a sort of Santa Claus upon return from the United States to his new home in Sanaa, Yemen.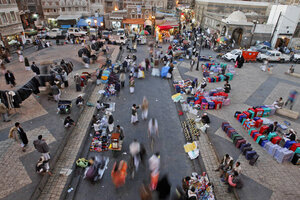 Hani Mohammed/AP
My life has taken a number of unexpected turns since I moved to Yemen last year, but I never expected it to lead me to a Brooks Brothers in downtown Washington, DC. But there I was two weeks ago, picking up an umbrella for one of my neighbors in Sanaa's old city.
For whatever reason, my neighbor Hussein, an area elder and former world-class ping-pong player, took an almost immediate liking to me. Within months of my arrival in the Yemeni capital, the 60-something father of 10 had me calling him uncle, rarely allowing me to pass by without summoning me by enthusiastically screaming "Texas" – an odd choice for a nickname, since I've never set foot in the state.
He also took a liking to my black and white-checkered Brooks Brothers umbrella. Whether due to the memory of the draconian laws of the long-overthrown Imamate, which restricted umbrella use to the upper echelons of Yemeni society, or a genuine admiration for classic American design, he developed an odd fixation with it. Having spent a few afternoons as a guest in his home, I couldn't refuse his request that I pick him up an umbrella like mine during my brief trip back to the United States last month.
---