No clear winners in trial of Anders Behring Breivik
(Read article summary)
Breivik got 21 years, but was found sane as he wanted. Prosecutors saw him jailed, but mishandled the psychiatric findings. And now the prime minister is feeling heat for security's slow response.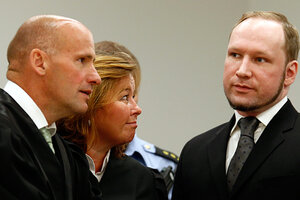 Heiko Junge/NTB Scanpix/AP
Last week concluded what has been a confusing and all-consuming trial against Anders Behring Breivik in what was supposed to be a cut and dry case.
Breivik was caught on the island of Utøya with a Glock pistol, Ruger semi-automatic rifle, and an arsenal of ammunition after having killed 69 people at Labor party youth summer camp. He even confessed to the bomb attack on the government headquarters earlier that day that killed eight, and detailed his entire planning to police shortly after his capture.
By all measures, the case should have been over long ago. Instead, it dragged on for 13 months with a final verdict falling on Friday: The 33-year-old Norwegian and self-proclaimed militant nationalist was sentenced to the maximum sentence of 21 years' permanent detention for terrorist acts.
Now, there are renewed calls today for Jens Stoltenberg, Norway's prime minister, to accept responsibility for failing to protect Norwegians from the attack and the slow police response that day.
After watching the trial for 10 weeks and listening to the debates since the attacks, one can't help but feel something is lacking. In many ways, it is still not clear who really won.
Technically, Breivik did, at least on legal precedence. He was arguing to be judged sane so that his militant nationalist ideology would stand stronger. He attacked the Labor party targets because he faults them for allowing too many Muslim immigrants into Norway and thereby promoting the "ethnic cleansing of indigenous Norwegians." The court ruled that he was sane and not paranoid schizophrenic as the first of two forensic psychiatric reports concluded.
---