China reacts with surveillance ships to Japan's purchase of disputed islands
(Read article summary)
Chinese surveillance ships briefly entered waters near disputed islands in the East China Sea that fuel nationalist passions on both sides. Will Beijing ultimately accept Japan's reasoning for the move?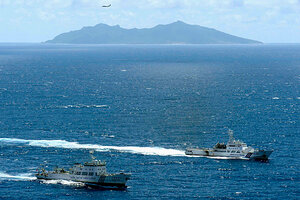 Kyodo/Reuters
China sent six surveillance ships into waters near disputed islands in the East China Sea on Friday, but quickly withdrew them in a sign that Beijing does not want tensions with Japan to rise too sharply.
The civilian vessels were engaged in "the normal performance of their duty," Chinese Foreign Ministry spokesman Hong Lei told reporters. The ships withdrew soon after being ordered to leave the area by Japanese coast guards, Japan's Kyodo news agency reported.
The sovereignty dispute has flared up again since Tuesday, when the Japanese government purchased three of the five contested islands from the Japanese family that had owned them. The uninhabited islands are known as the Diaoyu in China and as the Senkaku in Japan.
Beijing clearly had to react, if only because popular sentiment is running high on the issue in China; protestors have staged demonstrations in a number of cities, Japanese citizens have been assaulted on the streets of Shanghai, tempers are flaring in Internet posts and nationalism is rampant.
Aside from that, the islands could also be valuable; ownership of them gives rights over rich fishing grounds and a claim to potentially huge oil reserves under the nearby seabed.
---