Obama sits down with David Letterman - should Merkel take notes?
(Read article summary)
President Obama made a smart move by going on the Late Show with David Letterman, and German Chancellor Angela Merkel could benefit from something similar… if only she could pull it off.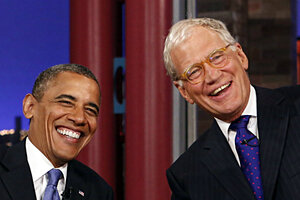 Kevin Lamarque
Thanks to a heads up from the local news last night, I got to watch President Barack Obama on the "Late Show with David Letterman." I figured if it was big enough to make the nightly news I should watch, but I didn't expect much more than staged jokes, dull conversation, and campaign messaging.
But after the initial chitchat ended – and President Obama had the audience on his side after cracking a joke about not wanting to see host David Letterman naked – I understood why the president went on air with the late night host. I also wondered whether it was something German Chancellor Angela Merkel should consider when running for re-election next year.
The setting is perfect: It's free television time on a national level and gives the incumbent a big platform for presenting both his ideas and his personality. I didn't expect Mr. Letterman to let Obama talk about the national debt for more than three minutes, let alone the gridlock in Congress for almost four, but that's what he did.
For Obama it was a way to reach voters who might not be interested enough in politics to follow election coverage closely but enjoy their late night talk shows. His choice of words might have been simple – referring to "two wars on a credit card" when talking about the national debt – but his message, peppered as it was with stories about his children and the White House garden, stuck.
---