Attempted attack on Israeli border highlights militant presence in Sinai
(Read article summary)
One soldier from the Israel Defense Forces was killed and another wounded in an attack on the Sinai border today, while three militants were killed.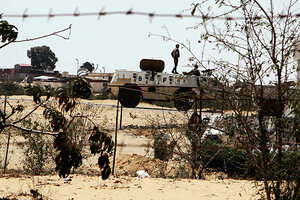 Ahmed Gomaa/AP
Israel said it disrupted an attempted large-scale terrorist attack on its southern border today, underscoring the ongoing threat posed by militants in the Sinai peninsula, who have stepped up their attacks since Egypt's popular uprising last year.
Israel's military said it killed three militants who crossed into Israel midday near Har Harif with weapons and explosive belts. One soldier from the Israel Defense Forces (IDF) was killed and another wounded in the exchange of fire. The last time an Israeli soldier was killed by militants from the Sinai was August 2011, according to the IDF.
Israel has long been concerned about security in the Sinai peninsula, which it captured in the 1967 Six-Day War but ceded after making peace with Egypt in 1978.
Former Egyptian President Hosni Mubarak's regime responded harshly to terrorist attacks in the peninsula, particularly after a 2004 attack that killed 34 in the tourist city of Taba, as The Christian Science Monitor's Dan Murphy pointed out recently. But with Mr. Mubarak's ouster last year and the formation of a new government dominated by the Islamist Muslim Brotherhood, Israel has voiced concern that Egyptian security in the Sinai has taken a backseat.
---