Egypt's leading female voice for change warns that revolution is backsliding
(Read article summary)
Speaking at Tufts University, female Egyptian activist Dalia Ziada accused the Muslim Brotherhood of pursuing anti-democratic policies and said that women needed to be given more power.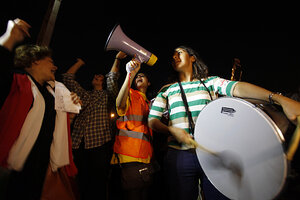 Amr Abdallah Dalsh/Reuters
Years from now, when scholars and historians debate the beginnings of the uprisings that rocked Egypt and the entire Middle East in 2011, one woman will likely figure prominently: Dalia Ziada, an ebullient Egyptian woman, civil society activist, and prolific blogger.
The pro-democracy figure warns that the heady optimism that infused Cairo's Tahrir Square last year is being slowly replaced by fear that the very political forces that helped sweep long-serving Hosni Mubarak from power are remaking Egyptian society into a rigid, religiously intolerant, patriarchal system.
"What's happening now is the Muslim Brotherhood is coercing everything," she said, referring to the once-banned conservative Islamic political group that now dominates Egypt's parliament and the presidency. "What I fear is that we will be facing the Muslim Brotherhood's theocracy with Mubarak's autocracy."
Ms. Ziada is one of a growing number of women activists in a movement that some have called "The Pink Hijab." The wave of uprisings that roiled politics and upended dictatorships from Tunisia, to Egypt, to Yemen has featured female activists at its forefront in a way that was previously unthinkable in male-dominated Muslim societies. Her work in particular has garnered accolades: Newsweek magazine called her one of the world's most influential women, while CNN dubbed her one of the Arab world's eight "Agents of Change."
---