Middle East peace: What would an Israeli entrepreneur do?
(Read article summary)
Erel Margalit, a leading Israeli venture capitalist, believes the moribund Israeli-Palestinian peace process could benefit from a bit of the high-tech industry's innovative outlook.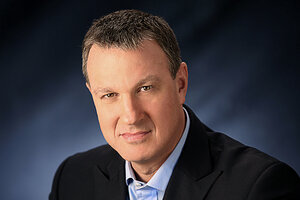 Erel Margalit/PRNewsFoto
With yesterday's announcement of early elections in Israel, many are saying that no one but Prime Minister Benjamin Netanyahu has a real vision for the country.
Those who know Erel Margalit may beg to differ.
Mr. Margalit is not in politics – yet. But as one of Israel's most successful venture capitalists with a bent toward social entrepreneurship, he has not been shy about admitting his desire to effect broader change by jumping into the political fray.
"Politics in Israel today is a stagnant business," he says, contrasting it with the kind of innovation that has made Israel's high-tech industry second only to Silicon Valley. "We need to take that level of innovation, daring, initiative, and working as a group into the political realm."
Renovating the region
When visitors enter the headquarters of Margalit's Jerusalem Venture Partners, they do not see Picassos or ancient Middle Eastern art.
Rather, there is a large picture of a derelict building that seems like it would be appealing only to stray cats. It bears no resemblance to the sleek, modern center it has become.
But Margalit had a vision for the derelict compound, which overlooks Jerusalem's Old City walls. Today, it is home not only to his venture capital group but also to many of Israel's most promising start-up companies, which each spend 18 months under the careful eye of Margalit and his team.
---