Good Reads: A lesson for democracy, lost and found on Google Earth, and the next Arab uprising
(Read article summary)
This week's good reads include words of wisdom from Myanmar's Aung San Suu Kyi, using the Internet and applied mathematics to find the long road home, and a profile of Egyptian courage.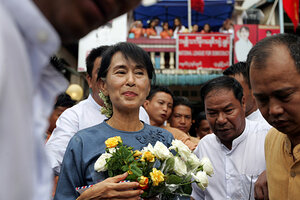 Khin Maung Win/AP
Larry Diamond writes in the Atlantic of the recent 17-day US tour by Myanmar (Burma) pro-democracy leader Aung San Suu Kyi – the first since her release from house arrest in November 2010.
Mr. Diamond writes that Ms. Aung San Suu Kyi's "moral authority has grown through personal suffering and sacrifice" after decades of house arrest and persecution under the military junta in Myanmar, where a fledging democracy is now beginning to take hold.
But it is Aung San Suu Kyi's "spirit of pragmatism and dialogue" that holds a relevant lesson for American politics. As she told her fellow Burmese in the audience during her American tour, "We must learn to compromise without regarding it as humiliation."
When Aung San Suu Kyi was asked if she aspires to rule her country, Diamond noted that "rather than shying away from politics, she embraced it. 'You should think of me as a political party leader. I was a politician before I was a 'democracy icon.' "
Diamond concludes, "At a time of rampant cynicism about parties and politicians in the United States, it is invigorating to have a 'democracy icon' remind us that politics can be a noble calling – and an indispensable means for advancing the public good."
Commentators have done plenty of hand-wringing over the Internet's corrosive effects on civil society. But not to be neglected are the triumphs of the digital realm – and its sometimes life-changing human impacts.
---