Food fight: Naples protests 'culinary racism' over pizza snub
(Read article summary)
Naples prides itself as the birthplace of pizza. So when a top Italian food guide overlooked the city's famed dish, protests erupted.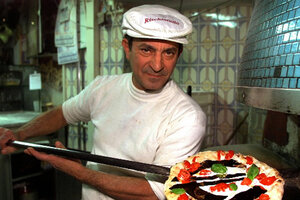 Mario Laporta/Reuters
It prides itself as the birthplace of the pizza and the global benchmark for Italy's most famous culinary export.
So when Naples heard this week that the latest edition of Italy's most respected restaurant guide had nominated a pizzeria in faraway, foggy Verona as the best in the country, there was spluttering outrage. Worse than that, not a single one of Naples's estimated 2,000 pizzerias had made it into the 2013 edition of Gambero Rosso, Italy's bible for foodies.
Indignant "pizzaioli," as pizzamakers are known, staged noisy demonstrations in some of Naples's most famous pizzerias to rail against what they saw as an injustice and a humiliation.
For the guide to judge the pizzeria near Verona, in the northeast of Italy, as the finest in the country was a snub not just to pizzamakers in Naples, but to the entire city, they said. Francesco Borrelli, a Neapolitan politician, went further – it was, he said, no less than an example of "culinary racism."
"This is the umpteenth example of hostility towards our city and our traditions. The fact that Gambero Rosso did not find a single Neapolitan pizzeria to include is shameful," he said.
Neapolitan newspapers tried to salvage some pride by poking fun at Verona for its culinary peculiarities – among them a horse meat stew known as "pastissada" and a bone marrow dish called "peara" – and said the city of Romeo and Juliet should stick to making polenta, not pizza.
The original pizza
Naples was the undisputed birthplace of the pizza, said Sergio Miccu, the president of the Neapolitan association of pizzamakers, even if it has now become a dish known around the world. "Its origins are in Naples – it was Neapolitans who taught the art of pizzamaking to other countries," he said.
---