In debate, Romney reiterates Russia is 'geopolitical foe' of US
(Read article summary)
The GOP presidential candidate's comments about Russia, which he has repeated several times this year, are likely to irk the Kremlin, but are not apt to change US-Russian relations.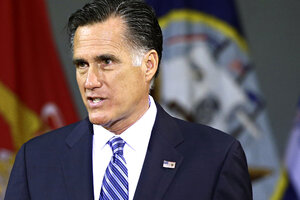 Charles Dharapak/AP/File
In last night's US presidential debate on foreign policy, Mitt Romney once again stated his belief that Russia was a "geopolitical foe" of the US, echoing similar comments he made in March of this year.
When he has accused Russia of being a "geopolitical foe" in the past, Moscow reacted with confusion and irritation, but little expectation of a change in US-Russian relations.
Mr. Romney first called Russia "our No. 1 geopolitical foe" during the Republican primaries in March, soon after an open mic caught President Barack Obama asking Russia's then-President Dmitry Medvedev to dial back their objections to US missile defense plans until after the November elections, when "I'll have more flexibility."
Although ostensibly a political attack against Mr. Obama, Romney's words caused puzzled concern in Moscow, the Monitor's Fred Weir reported.
A poll carried out by the independent, Moscow-based Levada Center earlier this month found that 42 percent of Russians think relations with the US are either "friendly," "good neighborly," or "normal and peaceful," while 47 percent think they are "cool" or "tense," and just 4 percent said they are "hostile."

"I can't see Romney's remarks as anything but an emotional outburst," says Gennady Gudkov, deputy chair of the State Duma's security committee. "That just doesn't correspond to the actual state of relations between our countries at all. Not only is Russia not a country that's hostile to the US, we are actually allies in many geopolitical issues. Russians may sometimes verbally abuse America, but we tend to keep our money over there, both privately and in the form of our national currency reserves, which are held largely in US dollars…. In fact, Russia is far more interested in our relations with the US than the Americans are in their ties with Russia." ...
---