Good reads: Growth we missed, Berlin's awkward fit, and where kids know best
(Read article summary)
This week's long-form good reads may change your perspective on the effects of the Great Recession, the importance of geography, and how to measure the quality of a teacher.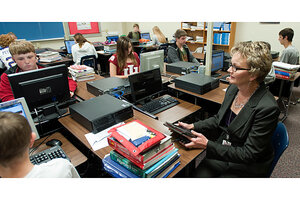 David Snodgress, Herald-Times/AP
Some five years after the dawn of the Great Recession, the global economic landscape is still sorting itself out. In a casual survey of the world horizon, Foreign Policy magazine takes stock of winners so far.
Some samples: The net worth of the average Canadian surpassed that of the average American this past summer. (Think real estate.) Poland – not Germany, not Norway – grew 15.8 percent from 2008 to 2011 while the overall economy of the European Union actually shrank slightly. Turkey has become Europe's biggest carmaker, and family incomes have tripled over the past decade. (Turkey is mostly not in Europe, but that's a technicality.) South Korea was the first developed country to emerge from the recession. Its manufacturers from Samsung to Hyundai have been conquering global market share, and government R&D spending, already among the highest in the world, was increased. Sweden used the lessons it famously learned surviving a financial crash in 1992 to ride out the 2008 version with low debt levels and strong government finances, and last year it had the fastest-growing economy in Europe after Estonia. (And hey, Go, Estonia!)
---