Obama victory a sure thing? A top Irish bookmaker thinks so.
(Read article summary)
Irish betting firm Paddy Power is so confident in an Obama win that they're paying out early to those that bet on the president's reelection. So far they've paid $650,000 to winners.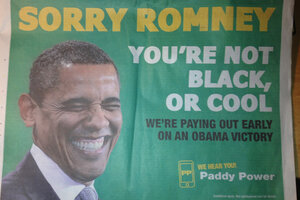 The Irish Times
Irish bookmaker Paddy Power is so confident that Barack Obama is going to be re-elected president that they took out an ad saying that they're paying out bets now.
The controversial (more on that later) half-page ad in The Irish Times newspaper read: "Sorry Romney, you're not black or cool. We're paying out early on an Obama victory."
So, while Americans head to the polls to choose their next president, many people in Britain and Ireland can head to the cashier's window and pick up their winnings for choosing Obama for a second term. They won't be collecting much though, because with odds of 1/5 the firm only pays out 20 cents for every euro bet (plus gives gamblers their original stake back).
The total payout has been over $650,000, according to the betting outfit.
Anyone who fancies their chances in taking on the house and winning by betting on a Romney victory will win €3.50 (about $4.50) for every euro staked. Despite the early payout on Obama, a Romney win would mean a second payout — and big losses for the bookie.
---