Think your office has long meetings? Try China's Party confabs
(Read article summary)
China's leaders have refined the endless-meeting concept to an exquisite level of pointlessness – making the country's progress over the past 30 years even more remarkable.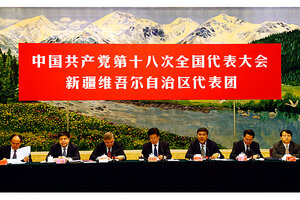 David Gray/Reuters
Endless and pointless meetings are by no means unique to China, as almost anybody who works in a large organization can attest.
But the Chinese Communist Party has refined the endless meeting to an exquisite level of pointlessness, and on Friday, when journalists were invited to sit in on "private" discussions among delegates to the 18th Party Congress, the phenomenon was on full display.
None of us had expected lively and spontaneous debate about the speech that party leader Hu Jintao had given on Thursday at the opening of the Congress. That is not the way things work here.
But there was no discussion of any description of the speech at any of the three gatherings that I attended in ornately decorated, thickly carpeted, marble pillared meeting rooms in the gigantic Great Hall of the People.
The Shanxi provincial delegation meeting seemed pretty typical. Thirty or so delegates were sat around a U-shaped table, and one by one they made their speeches.
'Yesterday, I heard Hu Jintao's report'
"Yesterday, I listened to Hu Jintao's report and I found it very profound and very correct," said Wu Huada, president of a coalmining company, before reading his prepared remarks about improved mine safety in Shanxi.
---