Where did 180 Russian websites go?
(Read article summary)
Scores of websites have been blocked under Russia's restrictive new Internet law that's been in effect for the past two weeks. Is this the beginning of a wider crackdown on free speech?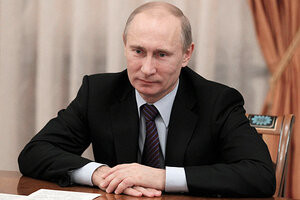 Mikhail Klimentyev/Ria Novosti/Reuters
More than 180 websites have been blacklisted and blocked under a restrictive new Internet law signed by President Vladimir Putin last July, which critics warn may be the start of a wider crackdown on free speech in Russian cyberspace.
The blacklist compiled by the Federal Surveillance Service for Mass Media and Communications (Roskomnadzor) is secret, but authorities insist its purpose is to eliminate extreme forms of "offensive" content, such as child pornography, or advocacy of racism, terrorism, drug use and other anti-social behaviors.
The list is constantly changing and expanding (Russian bloggers have posted an alleged copy of it here) and citizens can suggest new entries by logging into an official Roskomnadzor website.
But in its first two weeks of application, the law has produced a few high-profile casualties that critics say point to the fundamental weaknesses of a system that allows authorities to summarily shut down content without any need for a court order or reference to any supervisory body.
The definitions of "offensive content" are also murky, critics say, and could easily include political conversation that looks "extremist" to a policeman's eyes and other forms of commentary that might be simply misunderstood.
That criticism seems to have already been borne out. This week alone Roskomnadzor has closed down, among others, a Wikipedia-like encyclopedia of satire, which contained an article about how to make hemp (often associated with marijuana) soup; an online library, which included a copy of "The Anarchist's Cookbook," a 1970's American-authored manual for radicals; and a popular torrent-tracking website, on which users had apparently exchanged a file called "The Encyclopedia of Suicide."
---