Syrians want to know: 'Are you okay after Superstorm Sandy?'
(Read article summary)
With the sound of mortars in the background, Syrians in Aleppo express concern for our American correspondent and his storm-battered homeland.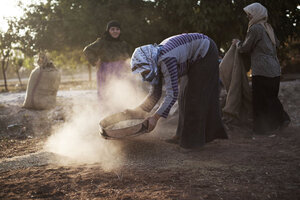 Manu Brabo/AP
I had just sat down to interview a commander of the Free Syrian Army in Aleppo and we were exchanging the normal pre-meeting pleasantries as some distant gunfire cracked in the background. After 20 months of conflict here, most artillery and gunfire goes unnoticed unless people are close enough to be directly affected.
With this as the backdrop for our interview, I was taken off guard when he asked if my friends and family were all right after Superstorm Sandy.
As a Californian living abroad, I was aware of Sandy. I had seen a few pictures of the aftermath, but I hadn't even followed the Sandy news close enough to know that it had been classified as a "superstorm," as a opposed to a hurricane. Yet here was a man whose nation is being torn apart by a violent civil war that had claimed the lives of several friends and tens of thousands of Syrians, and he'd been following Sandy news.
I initially thought the comment was a one off, a lone hurricane watcher, perhaps he was a Syrian with an interest in meteorology. Yet it has happened again and again and everyone who asks knows that it was a superstorm, not a hurricane.
---