Deep emotions run beneath Russia's adoption ban
(Read article summary)
The Duma's bill to ban US adoptions of Russian children, which passed another legislative hurdle today, appeals to Russian pride and concerns about the US.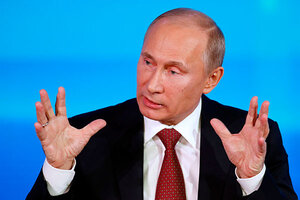 Misha Japaridze/AP
You usually can judge Vladimir Putin's dislike of a reporter's question by the intensity of his expression. Such was the case this week at his annual news conference, when he greeted with a hard scowl the subject of pending Russian legislation that would ban Americans from adopting orphaned children. Mr. Putin unleashed invective on the fact that consular representatives aren't allowed to visit adopted Russian children in the United States.
"I believe that is unacceptable. Do you think this is normal? How can it be normal when you are humiliated? Do you like it? Are you a sadomasochist or something? They shouldn't humiliate our country," he told reporters in Moscow.
As is often the case in Russia, there is the issue of what is going on versus what is really going on. And as is often the case in Russia, it's complicated.
There is very little doubt as to the goal of the legislation, which passed its third and final reading in the lower house of parliament Friday and must still be signed by Putin. The bill is named after Dima Yakovlev, the toddler who died of heat stroke in 2007 after his adopted father forgot him in a locked car in Virginia for nine hours. The father, Miles Harrison, was acquitted of involuntary manslaughter in the death of Dima, whose adopted name was Chase. His acquittal in 2008 sparked banner newspaper headlines, incendiary TV news reports, and howls of outrage in Russia.
Lawmakers in the State Duma made it clear that today's legislation is a direct response to the US "Magnitsky Act," a law designed to sanction a particular group of Russian officials connected to the death of a whistle-blowing lawyer in a Moscow prison.
---