India gang rape spurs national dialogue
(Read article summary)
An Indian woman who was the victim of a gang rape and brutal beating earlier this month in New Delhi has been flown to Singapore for treatment, while the rest of India debates women's safety.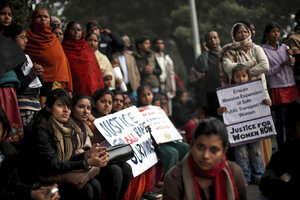 Altaf Qadri/AP
The Indian government's crackdown on the anti-rape protests that have continued for nearly two weeks in New Delhi has only aggravated public anger and concern about women's safety.
The protests were sparked by the gang rape and brutal assault of a 23-year-old student on a bus in the elite South Delhi district on Dec. 16.
As the girl battles for her life in a Singapore hospital, Indians are debating how to make the country safer for women. Ten days after the incident, it dominates newspaper headlines and op-ed pages, pushing to the margins stories like the retirement of cricketer Sachin Tendulkar, the popular Indian sportsperson, highlighting just how much the case has affected people.
Sexual harassment is rampant in India, and the public has been largely apathetic to women's plight, but many are hoping the attack could be a turning point in the way India treats women.
Calls for capital punishment, including the chemical castration of rapists, have died down, with various women's groups decrying them. Given that in 94 percent of rape cases the rapist is known to the victim, Nilanjana S. Roy, writing in The Hindu newspaper she wonders if the protestors would be okay with death penalty if it were their father, uncle, neighbors, or even if it meant convicting Indian security forces in conflict zones.
The Monitor reported that India is considering a fast-track court process to expedite rape cases and step up punishment for sexual violence on the heels of the bus rape incident.
---