India anti-rape protesters: Don't just get angry, do something
(Read article summary)
At a moment when many angry Indians are demanding that the rapists of a young woman who died this week be hung, one group encourages women to tackle social attitudes.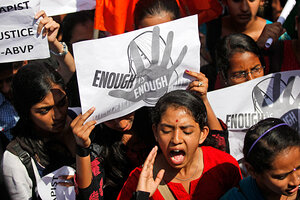 Aijaz Rahi/AP
Among the many anti-rape protests that have been held in Indian cities over the past few weeks, something has stood out at a demonstration this week: Protest signs that didn't cry shame or call for the death penalty, but pledged personal action.
"I pledge to intervene when I see a woman being harassed," read one slogan on signs held by both men and women on New Year's Day. Another sign held by a young woman read, "I pledge to stare back."
The "Safe City Pledge" demonstrations were organized by a collective called Blank Noise, which has been talking about sexual harassment in India for almost a decade now.
It is that long experience, says founder Jasmeen Patheja, that accounts for their unusual slogans. Amid the calls for better policing to prevent violent crime against women, the group wanted to also highlight how everyone contributes to – and can thus help change – a culture of sexism.
"It's easy to blame the government and the police, but they also represent certain social mindsets, attitudes that we may be perpetuating," Ms. Patheja says.
In recent weeks, some of those attitudes have been on display as political and civic leaders have faulted Westernization (read: sexual permissiveness) for violence against women.
On Friday, a leader from a Hindu nationalist party said that rapes "happen in India, not Bharat" (the Hindi name for the country), while another suggested that women are being punished for "crossing the line." A survey from earlier this year showed that a fair chunk of both Indian men and women believed that wife beating was acceptable.
A younger, urban generation isn't necessarily free from these attitudes either. "We may all contribute to the problem in invisible ways," Patheja says. "When we say 'Boys will be boys,' or when we share sexist jokes or make mothers and sisters part of [curse words]."
One of the most common problems that Indian women face is harassment in public spaces.
---